The Legacy of TM
TM Studios as it is now known, has a long history going back to the late 60s when partners Tom Merriman and Jim Long started the business. Long came from radio programming and sales and ran the operational side of TM, while Merriman, with his experience in big bands, wrote most of the music. Merriman and Long had previously been associated with another Dallas jingle house, CRC, but this new venture called TM would be their lasting legacy in the jingle world. Both men later went on to be associated with other companies including Long's FirstCom. TM today is in the capable hands of Greg Clancy, a second generation jingle star. (His father is Jim Clancy, a legendary bass singer.)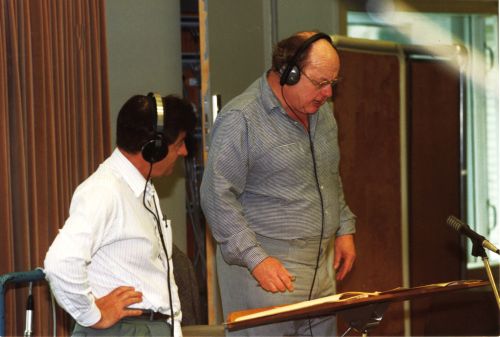 Muff Murfin (L) and Tom Merriman (1990)
Merriman was known in the industry for his ability to write music fast and well. He was familiar with virtually every genre including classical and jazz. Within the TM structure Merriman would soon get involved with not only jingles but also film scores, live corporate musical events and music for theme parks. He could really do it all, and with great style. Any production company would have been lucky to have him onboard.

TM's Jingle Writer's Blues (Sung by Otis Connor)
TM has undergone several changes in ownership and corporate names, including a period during which it was owned by Disney. While JAM, one of TM's competitors in Dallas, was formed several years later in 1974, JAM survived all those years with the same owners (Jon and MaryLyn Wolfert) and under one consistent corporate name (officially JAM Creative Productions). TM changed names several times, including a merger with Century 21 (not the real estate company, the jingle producer in Dallas). During that period it was known as TM Century. TM also along the way, absorbed the assets of the company alternately known as Pepper Sound Studios, Pepper Tanner, William B. Tanner and Media General. So if we were giving out a crown for the longest lasting jingle company, it would have to go to TM, although JAM would win for longevity under the same corporate name and owners.

TM syndicated literally hundreds of ID jingle packages over the last 50 years and continues to do so today. Tom Merriman died in 2009, and one can find his obituary here.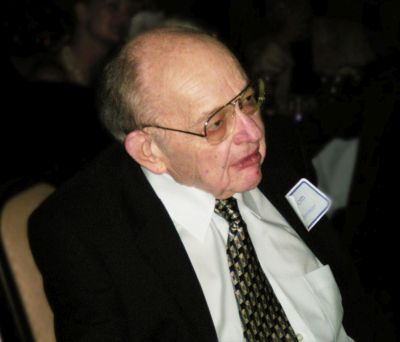 Tom Merriman (2008)
He was survived by his widow, Jackie Merriman, who had been one of the leading jingle singers in Dallas between the late 1950s and the early 1990s. Jackie, formerly known as Jackie Stott and Jackie Dickson, died in January, 2018. Tom and Jackie were jingle royalty and their passages marked the end of a rich era in jingle history.


Ken Deutsch
Thursday, August 2, 2018
TM's View: Jingles Help A Station's 'Flow'
Billboard Magazine - April 15, 1972
"It would be a real downer to I find out that jingles were invented in Syracuse," exclaims Jim Long, general manager of TM Productions, one of the major jingles firms in the business.

TM Productions president Tom Merriman is credited by many with creating the first singing station ID's with a theme. "Before that, jingles were really home-brewed. But, to tell the truth, I heard a tape once of jingles used back in the 1940's on WOLF in Syracuse -- a guy singing the call letters and playing on guitar. The first professional set of jingles were done in Los Angeles by Bob Sandy and Larry Greene for Chuck Blore, then at KFWB.

"They were called the 'Color Radio' series and were the first with a logo. But a couple of years before that, when Gordon McLendon had the old Liberty Network, Tom Merriman and some local musicians did some jingles in the Liberty studio in Dallas and those have to be considered the first thematic jingles."

Today, Dallas-based TM is now up to package No. 47. Jingle packages cost anywhere from a bottom price of $2,800 to much higher. A couple of weeks ago, Long was in a Los Angeles recording studio working on three custom jingles series for WXYZ, Detroit; WCFL, Chicago; and KILT, Houston, for which the total cost will be around $85,000.

These same jingles, however, will later go into syndication at much-reduced rates, depending on the size of the market; probably the prices will vary from $2,800 to $5,000. The most popular jingles series that TM has is "Phase II," which is now in more than 200 markets, making it the most popular series since PAMS' "Sonovox Series 18." "I always tell Bill Meeks of PAMS that I bought that series when I was programming," Long says. "It was popular between 1962 and 1968 and sold a long time. Meeks is now selling package No. 41…. lord, this sounds like I'm doing a PAMS commercial!"

Jingles have many uses at a radio station, according to Long. For one thing, a jingle, much as does a commercial, creates a residual force in the minds of the listener that makes them remember the station when they're not listening. "And one of the most severe problems facing radio -- outside of the fact that most formats are so similar -- is that jingles are so short now they almost sound the same," Long says.

He points to the fact that the jingles all have either a W or a K to start with and many of them end high, "so that leaves only two notes with which to establish an identity factor in the minds of the listener. Our 'Where Your Friends Are' series was longer and more creative.

"KDWB had a tremendous increase in ratings in the past year with these jingles. Sure, the programming at KDWB had a lot to do with those ratings, but when the man with the survey diary comes around, all the good programming in the world doesn't help if the listener can't remember your call letters. "Also, jingles today usually help increase the flow of the sound of the station. The only time the station stops is when it's into a commercial cluster. These commercials, in effect, create a problem that a good jingle can solve -- get the station back moving. We built a short jingle for Buzz Bennett when he was programming KCBQ in San Diego that shotgun people back to music real fast out of a commercial cluster."

Too, jingles today should "work with the format. For example, when you consider the whole hour of a typical broadcast hour at a radio station, none of those elements want to blend together. For a hard commercial, you want a propellant back to a record. When at the end of a commercial, you need a good jingle to get you back cooking . . . back to a positive element.

"The a capella jingles that Bill Drake conceived were to give the illusion that the station was all music . . . and they did that very effectively. But the problem, or one of them, that exists today is to keep the station sounding up-tempo because so much of the new music is down in tempo. Jingles can help solve that problem."

Long, with a background in radio programming, likes to talk to program directors and try to find out what their aims are for their stations. Then, he and Tom Merriman sit down and try to create jingles to fit the program director's needs. "For a program director, jingles are the most singular biggest expense on his budget, as a rule."

TM Productions is a division of Starr Broadcasting, of which William F. Buckley is chairman of the board. TM is also involved in syndication of a beautiful music programming service.