Radio a Go Go! Fun Vibrations! All-American Radio!
These are just a few of the phrases that William B. Meeks coined for his top-40 jingle clients as president of PAMS Inc. of Dallas.
Bill Meeks died of cancer Sept. 8, 1999, in Dallas at age 78.
As a staff musician at WRR(AM), WFAA(AM) and later KLIF(AM) in the late 1940s, Meeks began writing jingles for local advertisers. In 1951, he opened PAMS Advertising Agency Inc. in Dallas to handle his growing list of clients.
The now-famous combination of letters stood for "Production, Advertising, Merchandising Service."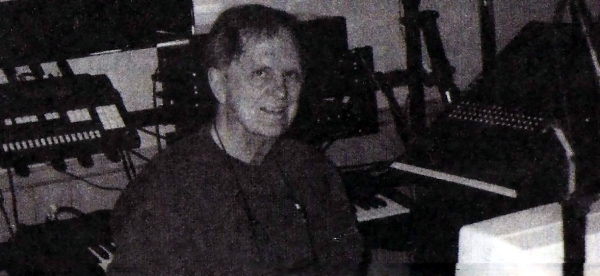 Bill Meeks
Syndicated jingles
Prior to that time, each jingle had been recorded individually. Meeks wanted to "syndicate" his jingles across the country by using a common instrumental track with new lyrics for each city. For example, the same musical track created for "First National Bank" in Dallas could be re-sung for "Third National Bank" in Louisville.
Recalling his beginnings for an interview taped in the early 1970s, Meeks said the head of the Dallas musicians' union called New York for guidance because this kind of thing hadn't been done before. He said the national headquarters was too busy to deal with a local problem like this, so Dallas was left to negotiate its own rates and rules for syndicated jingle work.
"A few years later, the national union finally figured out what was going on in Dallas and tried to change things," Meeks would recall, "but by then the jingle business had really taken hold." The musicians by that time were willing to take the work with or without the union's blessing, a stance made possible because Texas is a "right-to-work" state.
Competition
With the musician and vocal talent pool Meeks developed, several competing studios sprang up in Dallas, putting that city on the map for radio ID jingles. Tinker Rautenberg, one of the earliest vocalists to work for 30 Meeks, met the young entrepreneur in 1946.
"When Bill played with the Early Birds Orchestra at WFAA in the early 1940s, he would walk into the room carrying a saxophone, clarinet and flute and always stumble in late. He was one of the truly colorful characters in those days."
Rautenberg sang with Vaughn Monroe's Moon Maids and ended up back in Dallas recording "many, many jingle sessions" with PAMS.
By 1958, Meeks was having his first big taste of success producing IDs for radio stations. In 1960 he came up with the idea of the "variable logo." Simply stated, this was the notion that each station could have its own call-letter melody, which could remain consistent from package to package.
'Dramatic Signatures'
The name of the demo introducing this concept was "Dramatic Signatures." It was the 14th PAMS jingle series.
In 1961, Meeks dreamed up a concept that would finally put PAMS on the map.
The Sonovox was a novelty invented by Gilbert Wright that had been used as early as 1941 in dance bands headed by Alvino Rey and Kay Kaiser. It employed about $10 in electronic parts and an electric guitar amplifier that allowed the "singer" to articulate sounds played by various musical instruments.
With someone playing a flute or trombone into a microphone, the Sonovox user put a couple of hand-held speakers to his throat and whispered the words into a separate microphone. The net result: it sounded like the instrument was singing.
Meeks used it on jingles. PAMS Series 18 ("Sonosational") was the first package to use this idea. Piloted for KFWB(AM) in Los Angeles and WIBG(AM) in Philadelphia, Series 18 started a national trend.
These catchy jingles immediately were syndicated to hundreds of radio stations in 1961 and remain popular with oldies stations.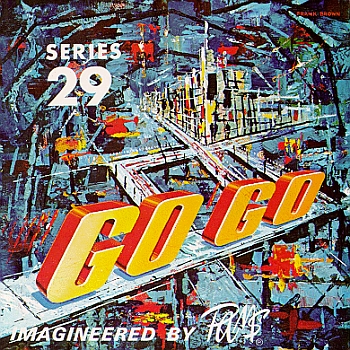 A PAMS package from 1965
More hits more often
Meeks used various techniques to achieve his sounds, including all-male and all-female vocal groups. One singer recalls a group being asked to sing into a paper cup against a glass window to achieve a unique sound. Through the 1960s and early '70s, PAMS created the jingles everyone talked about.
Carol Piper was a PAMS singer for 10 years. She believed the secret to Meeks' success was his ability to hire the best people.
"He also was able to create a family atmosphere, which is possibly missing from the industry today," said Piper, whose husband Bob was a writer for PAMS. "Bill had a lot of unique ideas, and he was a 31 great salesman, too."
For years, Meeks held an annual company picnic at Lake Texoma on the Red River near Oklahoma.
"He was fair with his employees, and we all had a lot of fun," Piper said.
Two of the most influential top-40 stations in the 1960s and early '70s were WABC(AM) in New York and WLS(AM) in Chicago. These call letters were used on demo tapes that were distributed widely. Many medium- and small-market stations heard them and wanted to pattern themselves after WABC and WLS.
PAMS picked up clients in other countries, including BBC Radio One and Two in England and several stations in Australia and Canada.
"Bill Meeks and the PAMS sound were vital to Radio One," said Tim Arnold, a British radio consultant and lecturer at London's University of Westminster and owner of an archive of PAMS jingles.
PAMS also produced jingles for several U.K. "pirate" stations of the era, including Swingin' Radio England and Britain Radio. "These added American slickness and excitement to popular radio here," Arnold said.
Company rebirth
PAMS closed in September of 1978. As related by the company Web site, "In the late '70s, PAMS experienced financial problems, which ultimately forced the company to suspend operations. But the corporation was never dissolved or in bankruptcy."
In 1990, its stock was purchased by former employee Jonathan Wolfert, president of JAM Creative Productions.
The company is producing jingles under the PAMS name. According to the firm, copyrights for the PAMS jingles are held by the original corporation.
"But during the years that the company was inactive, several other parties offered re-sings under the PAMS name," the Web site states. "In order to avoid any future confusion, it became necessary to use the legal system to resolve various conflicting claims. Happily, a settlement was reached in this regard in February 1997."
For more about Bill Meeks, visit the company Web site at www.pams.com. Meeks is survived by his wife Marge, two children and six grandchildren.
Jingle, Jingle, Jingle
A selection of PAMS highlights:
Series 18 (1961) Sonosational
Series 19 (1962) Personality themes
Series 20 (1962) Weatherettes
Series 22 (1965) Sono-Magic
Series 25 (1963) The Happy Difference
Series 26 (1963) Let's Go America ("All -American")
Series 27 (1964) The Jet Set
Series 28 (1964) Happiness Is
Series 29 (1965) Go Go
Series 30 (1965) The 'N Set
Series 31 (1966) Music Explosion
Series 32 (1966) Swiszle
Series 33 (1967) Fun
Series 34 (1967) Tenth Dimension ("Music Power")
Series 37 (1969) Power Play
Series 40 (1970) The Changes
This article also appears in Ken Deutsch's "The Jingle Book". For more information and to order, go here.
Related Story: 1987 Bill Meeks Pulse Maker Interview