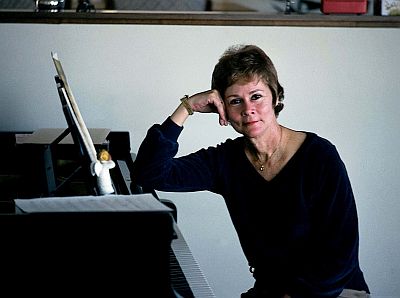 Anita Kerr

Anita Kerr Mini Jingle Sampler

Anita Kerr WOHO Jingles
Ken Deutsch writes: Anita Kerr was a woman that I admired for many years before I finally had the opportunity to talk with her on the phone and sell CDs of her radio IDs in the early 2000s. But jingles (for stations like WLS, KQV, KMPC, WLW, WMCA, WOHO and so many more) were just a tiny part of the music that she wrote, conducted and sang over a 40-year period.
In her early years she and her first quartet backed up every major recording artist in Nashville. The list is far too long to cover, but here are three of my favorite hits that benefited from the Anita Kerr sound:
Jingle Bell Rock (Bobby Helms)
Forever (Pete Drake and his Singing Steel Guitar)
Big Bad John (Jimmy Dean)
She also sang with Perry Como, Chet Atkins, Brenda Lee, Pat Boone, Bobby Vinton and so many others, as she transitioned from strictly country to any other type of music that needed a classy background vocal group. Anita also released dozens of her own albums over the years in every style imaginable.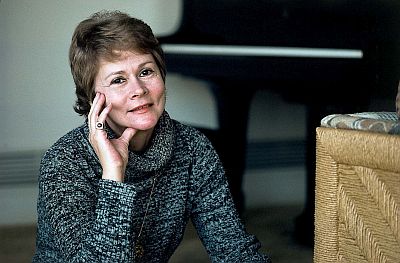 Anita Kerr
In time she would move to Chicago and Los Angeles and continue to create great music, pick up every industry award there is and in general, reach heights that few have obtained. And through it all she remained soft-spoken and kind. In a field dominated by men, Anita didn't waste time demanding equal treatment, she just did her thing and left everyone else in the dust.
Anita Kerr died October 10, 2022. She was 94.
Ken R, LLC released five collectors compact discs of Anita Kerr radio jingles.
To honor her extraordinary work in the radio ID business,
we have posted zipped MP3 versions of those discs as free downloads.
The original Ken R, LLC CD descriptions are below.
Anita Kerr WLS Platinum Through a special arrangement with Ms. Kerr, we are proud to present the ultimate collection of these jingles, taken directly from her master tapes. You get 99 cuts (58 minutes) from the historic packages created for WLS (AM), Chicago. Each cut on the CD has its own index for easy cueing. The label lists titles for all cuts and some jingles are presented in shorter edits as well as full versions. These are the cleanest sounding versions of these jingles ever heard as we have worked from original source material and used slight CEDAR noise reduction where required. The CD comes with a full-color picture of Anita Kerr on the cover and only a 200 will be pressed. A real collector's item! Download It

Anita Kerr Treasury Volume I You get wonderful ID packages created for KMOX-FM (St. Louis), KMPC (1969 in stereo) and KMPC 1973 (Los Angeles), WBNS (Columbus, Ohio), WHLO (Akron, Ohio) and WLW (Cincinnati, Ohio). The fidelity on these makes you feel like you're in the room with the group! Over an hour! Download It

Anita Kerr Treasury Volume II You get over an hour of custom packages for stations including KOB (Albuquerque, in stereo!), KQV (Pittsburgh), WBT (Charlotte), WIOD (Miami), WKIS (Orlando) and WOHO (Toledo). The WKIS package is a real departure for Ms. Kerr. Download It

Anita Kerr Treasury Volume III KDEN (Denver) 1973; KEZY (Anaheim) 1968 with unusual lyrics and custom cuts; KMBZ (Kansas City) 1967; KTOK (Oklahoma City) 1967; WFBR (Baltimore) from the late 1950s; WIOD (Miami) which is different from the a capellas in AK-3 from 1968; WMCA (New York) 1958 and WSBA (Harrisburg) 1968. By the way, the KMBZ package has a "not for broadcast cut" sung especially for the DJs "from the Anita Kerr Singers." It's an hour and four minutes. Download It

Anita Kerr Treasury Volume IV Another hour and three minutes of wonderful jingles, very different from PAMS and TM product of the same era. You get a capellas for KACY, KAYQ and KDEO (the latter with a bigger vocal group), followed by a unique custom package for KFI, Los Angeles. Then the 1967 WTAE "Personality" package and the Bonneville beautiful music jingles and instrumentals in stereo. Download It
We hope you enjoy this Anita Kerr print tribute, originally published by Billboard magazine in 1979. Click on an image below to enlarge.